2002 Ride Report, Photos, and Results
Pass 4: Angelus Oaks to Onyx Summit
By Chuck Bramwell
The 1999 Ride Report gives an Insider's View of the Breathless Agony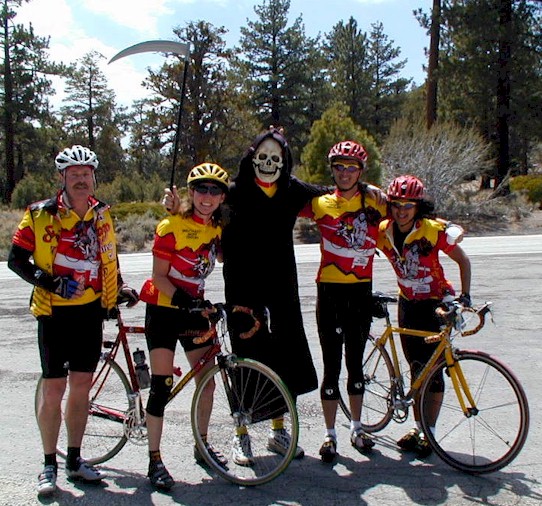 If you've completed all 4 Passes, You Need A Breathless Agony Jersey!!





Photos from Onyx Summit at 8,443 Feet - Part 1

Photos from Onyx Summit at 8,443 Feet - Part 2



The road up to Onyx Summit has some steep ups and downs through Barton Flats followed by a long endless climb to Onyx Summit. However, there is really great scenery as you climb up and up above the clouds!! And did I mention THE PARTY at the top? It was a really great time this year with the largest field ever to make it to Onyx Summit!!

In Part 1, check out 66 Photos from the party at Onyx Summit. In Part 2, check out 58 Photos from the continuing party at Onyx Summit right up to the end.

It was great fun to share the joy of these cyclists arrving at THE TOP!! These 124 photos show how great of a time it was at the Onyx Summit Party this year!!

Don't worry: only small thumbnail photos are first displayed so it doesn't take long.

Click on any of the small thumbnails to bring up the medium size version.

Click on the medium size version to bring up the large size version.

Order Mugs, T-Shirts, or other goodies by selecting "Buy Prints or Gifts" from the Button on the Left.

Peg Phillips did so much for the ride by leading Registration before the ride, handling Registration at the Ride Start, managing Rest Stop 2 and Rest Stop 4 ... we could have never done it without her incredible help this year so a BIG THANKS to Peg!!

We were amazed at the number of 4 Pass Finishers this year ... in 2000, there were 23 riders who made it to the top at Onyx Summit, in 2001, there were 36 and in 2002, there were 91 Riders who made it all the way to Onyx Summit!! What a difference a Cool Jersey makes!! Congratulations to everyone who made it!!

Special recognition goes out to the top 3 Women: Mavis Irwin, Lorraine Gersitz, and Kelley Swanno as well as the top 3 Men: Bob Davidson, Brian Bowling, and Vincent Tortorich!! These folks were flying up all of those climbs and a big congratulations to them.

A major tip of the hat to Dan Gorman and Doris Bingo who rode their tandem up all 4 Passes of this really tough ride. There has only been one other couple who have ridden their tandem all the way up to the top: In 2000, Michael Kantner and Laura Needels made it all the way to the top in 7:13. Dan and Doris completed it in 7:05 this year ... setting a new Tandem Course Record!!

A tip of the hat to the Veloce Santiago Team for their support of this most difficult ride ... there was a huge turnout this year and many, many Santiago Cyclists made it to THE TOP!! Congratulations!!


2002 BREATHLESS AGONY 4 PASS FINISHERS

Place

First Name

Last Name

Age

Sex

Start

Rest

Rest

Start

Rest

Start

Rest

Start

Stop #1

Stop #2

to RS2

Stop #3

to RS3

Stop #4

to RS4

WOMEN

1

Mavis

Irwin

F

6:24

8:16

9:42

3:18

11:12

4:48

13:18

6:54

2

Doris

Bingo

F

6:33

8:10

9:45

3:12

11:20

4:47

13:38

7:05

3

Lorraine

Gersitz

F

6:51

8:53

10:20

3:29

11:54

5:03

13:56

7:05

4

Kelley

Swanno

F

6:32

8:28

10:02

3:30

11:31

4:59

13:39

7:07

5

Heather

Krauss

F

6:20

8:14

9:47

3:27

11:25

5:05

13:38

7:18

6

Livia

Peraza

F

6:13

8:02

9:41

3:28

11:22

5:09

13:39

7:26

7

Sheri

Nazaroff

F

5:57

8:02

9:45

3:48

11:24

5:27

13:39

7:42

8

Vickie

Rigby

F

6:06

8:02

9:42

3:36

11:23

5:17

13:49

7:43

9

Susan

Miller

F

6:17

8:29

10:06

3:49

11:41

5:24

14:02

7:45

10

Gisela

Paolinelli

F

6:18

8:24

9:57

3:39

11:45

5:27

14:12

7:54

11

Meredith

Peake

F

6:32

8:11

10:02

3:30

11:53

5:21

14:33

8:01

12

Catherine

Zelasko

F

6:17

8:21

10:10

3:53

11:45

5:28

14:25

8:08

13

Nancy

Massaro

F

6:17

8:32

10:15

3:58

12:00

5:43

14:37

8:20

14

Ginger

Coombs

F

6:17

8:23

10:15

3:58

12:12

5:55

14:53

8:36

15

Vicki

Adoff

F

5:58

8:22

10:10

4:12

12:12

6:14

15:03

9:05

16

Maria

Perkins

F

6:12

8:37

10:30

4:18

12:33

6:21

15:20

9:08

MEN

1

Bob

Davidson

54

M

6:34

8:09

9:24

2:50

10:31

3:57

12:08

5:34

2

Brian

Bowling

28

M

6:34

8:09

9:24

2:50

10:31

3:57

12:11

5:37

3

Vincent

Tortorich

39

M

6:18

7:58

9:10

2:52

10:25

4:07

12:00

5:42

4

Victor

Matloff

46

M

6:47

8:22

9:42

2:55

10:52

4:05

12:33

5:46

5

Daniel

Thomas

54

M

6:34

8:13

9:26

2:52

10:44

4:10

12:23

5:49

6

Pete

Smith

42

M

6:47

9:32

2:45

10:50

4:03

12:43

5:56

7

Brian

Tavoian

38

M

6:25

8:11

9:19

2:54

10:31

4:06

12:26

6:01

8

James

Toner

36

M

6:40

8:17

9:41

3:01

10:52

4:12

12:44

6:04

9

Martin

Ward

49

M

6:34

8:11

9:26

2:52

10:49

4:15

12:39

6:05

10

Don

Schmidt

55

M

6:52

8:40

9:57

3:05

11:05

4:13

13:00

6:08

11

Bill

Griffith

44

M

6:37

8:15

9:42

3:05

11:03

4:26

12:50

6:13

12

Paul

Nickerson

39

M

6:42

8:14

9:41

2:59

11:02

4:20

12:56

6:14

13

Robert

Lindsay

38

M

6:42

8:21

9:41

2:59

11:02

4:20

12:57

6:15

14

Todd

Magnelli

32

M

6:54

8:42

9:57

3:03

11:13

4:19

13:09

6:15

15

James

Becker

53

M

6:42

8:30

9:50

3:08

11:10

4:28

12:58

6:16

16

Tony

Rodriguez

M

6:24

8:11

9:24

3:00

10:47

4:23

12:42

6:18

17

Tony

Wang

29

M

6:21

8:17

9:45

3:24

10:45

4:24

12:40

6:19

18

Mark

Parish

39

M

6:42

8:11

9:32

2:50

10:58

4:16

13:02

6:20

19

Ivan

Tovar

43

M

6:32

8:11

9:32

3:00

11:00

4:28

12:57

6:25

20

Robert

Heller

39

M

6:41

8:14

9:42

3:01

11:00

4:19

13:07

6:26

21

Parker

Williams

64

M

6:11

8:01

9:28

3:17

10:53

4:42

12:38

6:27

22

Randy

German

42

M

6:37

8:15

9:42

3:05

11:07

4:30

13:07

6:30

23

Robert

Rayburn

44

M

7:05

8:28

10:02

2:57

11:29

4:24

13:42

6:37

24

Darren

Gonser

37

M

6:42

8:27

9:45

3:03

11:15

4:33

13:21

6:39

25

Jeff

Druck

52

M

6:34

8:09

9:32

2:58

10:56

4:22

13:23

6:49

26

Don

Cooley

61

M

6:02

7:55

9:22

3:20

10:54

4:52

12:52

6:50

27

Jay

Barrett

39

M

6:13

8:12

9:32

3:19

10:58

4:45

13:04

6:51

28

Richard

Knapp

31

M

6:42

8:36

10:15

3:33

11:36

4:54

13:33

6:51

29

John

Godden

48

M

6:24

8:16

9:42

3:18

11:12

4:48

13:18

6:54

30

Troy

Raffelson

41

M

6:18

8:11

9:30

3:12

11:07

4:49

13:17

6:59

31

Tony-Wrk Ride

Rodriguez

M

7:08

9:10

10:32

3:24

12:11

5:03

14:11

7:03

32

Thomas

Gull

38

M

6:42

8:36

10:15

3:33

11:39

4:57

13:46

7:04

33

Douglas

Fleming

24

M

6:40

8:17

9:48

3:08

11:20

4:40

13:45

7:05

34

Daniel

Gorman

45

M

6:33

8:10

9:45

3:12

11:20

4:47

13:38

7:05

35

Paul

Swanno

37

M

6:32

8:28

10:02

3:30

11:31

4:59

13:39

7:07

36

Marty

Breen

59

M

6:10

7:52

9:12

3:02

10:43

4:33

13:18

7:08

37

Mike

Burns

54

M

6:51

8:53

10:20

3:29

11:58

5:07

14:03

7:12

38

Richard

Elder

27

M

6:38

8:23

10:02

3:24

11:36

4:58

13:51

7:13

39

Gary

Poles

39

M

6:18

8:21

10:07

3:49

11:32

5:14

13:33

7:15

40

Clark

Dicus

48

M

6:12

8:07

9:41

3:29

11:13

5:01

13:28

7:16

41

Greg

Mill

39

M

6:13

8:00

9:41

3:28

11:05

4:52

13:29

7:16

42

David

Noble

38

M

6:42

8:27

10:02

3:20

11:36

4:54

13:58

7:16

43

Chuck-Wrk Ride

Bramwell

50

M

7:08

9:10

10:32

3:24

12:11

5:03

14:25

7:17

44

Jim

Fuller

53

M

6:02

7:55

9:25

3:23

11:03

5:01

13:20

7:18

45

Michael

Morrell

30

M

6:39

8:40

10:15

3:36

11:41

5:02

13:58

7:19

46

Robert

Tinkham

43

M

6:42

8:39

10:15

3:33

11:45

5:03

14:01

7:19

47

Spike

Summers

53

M

6:34

8:24

9:57

3:23

11:38

5:04

13:57

7:23

48

Alan

Kraemer

51

M

6:24

8:09

9:45

3:21

11:28

5:04

13:56

7:32

49

Bill

Tracy

49

M

6:18

8:21

10:01

3:43

11:41

5:23

13:55

7:37

50

David

Marino

53

M

6:28

8:23

10:05

3:37

11:48

5:20

14:09

7:41

51

Ken

Isaak

39

M

6:20

8:17

9:55

3:35

11:48

5:28

14:02

7:42

52

Perry

Crutchfield

43

M

6:17

8:23

10:06

3:49

11:41

5:24

14:02

7:45

53

Steven

Barron

49

M

6:38

9:18

10:35

3:57

12:05

5:27

14:26

7:48

54

Michel

Vincent

44

M

6:38

9:18

10:30

3:52

12:05

5:27

14:26

7:48

55

Stephen

Brown

38

M

6:01

7:58

9:25

3:24

11:07

5:06

13:57

7:56

56

Michael

Joyce

46

M

6:01

7:58

9:41

3:40

11:10

5:09

13:57

7:56

57

David

Powell

57

M

6:32

8:31

10:20

3:48

12:13

5:41

14:37

8:05

58

William

Murphy

50

M

6:14

8:22

10:07

3:53

11:51

5:37

14:20

8:06

59

Ulmont

Smith

45

M

6:19

8:17

10:10

3:51

11:51

5:32

14:27

8:08

60

Jeff

Zelasko

30

M

6:17

8:21

10:05

3:48

11:45

5:28

14:25

8:08

61

Garth

Hamlin

30

M

6:24

8:17

9:57

3:33

11:54

5:30

14:33

8:09

62

Bill

Wolfson

56

M

6:13

8:11

10:00

3:47

11:48

5:35

14:22

8:09

63

David

Wu

33

M

6:21

8:17

9:55

3:34

11:47

5:26

14:30

8:09

64

Michael

Frost

55

M

6:32

8:31

10:16

3:44

12:05

5:33

14:41

8:09

65

Matt

Staker

43

M

6:32

8:31

10:16

3:44

12:09

5:37

14:41

8:09

66

Charles

Renes

37

M

6:10

8:13

10:20

4:10

12:46

6:36

14:36

8:26

67

Frank

Keenan

58

M

6:08

8:02

9:42

3:34

11:15

5:07

14:40

8:32

68

Chuck

Phillips

39

M

6:10

8:02

9:42

3:32

11:15

5:05

14:42

8:32

69

Peter

Bouzane

38

M

6:20

8:22

10:05

3:45

12:05

5:45

14:58

8:38

70

Christopher

Hayward

27

M

6:20

8:22

10:05

3:45

12:05

5:45

14:58

8:38

71

Rick

Olson

45

M

6:20

8:24

10:05

3:45

12:05

5:45

14:58

8:38

72

Wally

Rivera

47

M

6:20

8:22

10:00

3:40

12:05

5:45

14:58

8:38

73

Eddie

Camerena

64

M

6:10

8:13

10:16

4:06

12:15

6:05

14:50

8:40

74

Richard

Long

51

M

6:34

8:50

10:40

4:06

12:48

6:14

15:20

8:46

75

Kurt

Tarhan

39

M

6:32

8:31

10:16

3:44

12:20

5:48

15:27

8:55
Breathless Agony Main Page | Pass 1 | Pass 2 | Pass 3