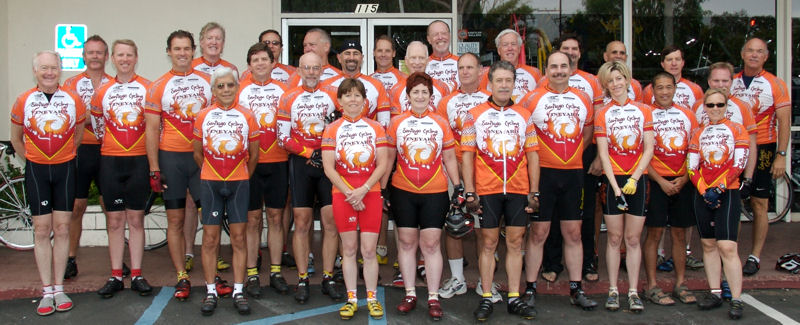 Veloce Santiago Team - 2007
Veloce Santiago is the Cycling Team closely associated with Santiago Cycling -- THE Road Bike Shop in Tustin, California. Veloce (pronounced Vel-o-chay) Santiago has been in operation since 1987 and embodies simple objectives: To Improve Cycling Fitness and Skills while having Fun riding together Safely.
Do you want to be part of a Cycling Team where riders work together in well controlled pacelines sharing the workload? Where Team Members help each other out both on the road and off? Where riders really get the feeling of being a teammate? Where the teamwork really pays off with amazingly fast Century times?
If so, then look into joining the Veloce Santiago Cycling Team!!

Veloce Santiago has 5 organized rides per week for Team Members Only. A sixth ride, on Saturday Mornings, welcomes non-Team members to develop their skills and fitness. This ride allows for a controlled paced and non-competitive group riding environment.
The route for these Saturday Morning rides varies and is approximately 22-25 Miles long at a pace of 16-19 Miles Per Hour. One option is an instructional ride for new or first-time riders where you will learn to ride in a controlled and structured paceline. These rides are qualifying rides for eventual Team Membership and are a great introduction to the Team.
We roll out from the parking lot of the Santiago Cycle shop located at 115 N. Prospect, Tustin. Please be respectful of the parking spaces reserved for other tenants in the building.
Come and join us on Saturday Mornings -- the ride starts promptly at 7:30, so please come early to be ready to ride at 7:30. You must be sure to bring an ANSI-approved, hard-shell helmet. We will have coffee, bagels and fun afterwards at the shop! All are welcome to come out and have a great ride with the Santiago team.

Veloce Santiago is open to men and women of all ages and fitness levels. Our team members are competitive yet complimentary, helpful, positive and skillful. This makes us stand out as one of the most competitive clubs in all of Southern California.
Although not required, Team Membership can be attained by qualifying in 4 areas:
1) Safety
2) Etiquette
3) Character
4) Support for the Bike Shop
Once accepted to join the team, riders pay a yearly fee and receive a beautiful Veloce Santiago Team Jersey. Supporting Team Members also receive discounts on merchandise and training clinics.
Veloce Santiago has 5 organized rides per week for Team Members Only.

The following rules were initially developed by Frank Baker, a long time member of the Veloce Santiago Team, in order to help all cyclists to ride more safely in a paceline environment. They have been updated by Chuck Bramwell and his experience riding in pacelines. These rules will be updated in the future as needed.
1. Don't use Aero Bars while in a paceline. Aero Bars might be a great tool when you are riding solo or at the front of a paceline. However, if you are in the middle of a paceline, the time it takes to get from your Aero Bars to your brakes can be the deciding difference in whether you and those behind you have an accident or not. Keep your hands on your brakes or brake hoods while in a paceline.
2. Don't OVERLAP WHEELS!! This is especially important with some riders -- it can be a formula for disaster. Unless you are an exceptional bike handler riding behind a remarkably steady and predictable rider, the advantage gained by close following or a narrow echelon is not worth the risk of crashing.
3. When on the front, KEEP YOUR HEAD UP, CALL OUT THE JUNK, and WATCH THE LIGHTS. You are responsible for the safety of many riders. Don't let them down. Don't worry about what gear you are in or if you have an acorn in your cluster. Go easy off the lights, give the back time to get going without getting the "whip syndrome".
4. When pulling off the front of a double wide paceline and coming back on the left of the paceline, MAKE SURE THE TRAFFIC IS CLEAR behind the group so that you are not pulling out into traffic. If you are in a single wide paceline, it is usually safer to pull off to the right of the paceline so that you are away from traffic.
5. If you MUST chit chat in the pace line - SKIP THE EYE CONTACT. WATCH THE RIDER IN FRONT OF YOU AND THE TRAFFIC ON THE ROAD - ESPECIALLY AT THE FRONT. When on the front, don't talk: you have too much responsibility. You need to always be aware of what is in front of you, to the side of you and without looking back behind you.
6. Watch the rider in front of you, constantly. Depending on who it is, back off, especially when approaching a challenging rise in terrain or jump in pace. Some people, even on the best of days have an inconsistent speed that causes the bike to go back and forth. Other people brake suddenly or excessively. Know who these people are and stay back from them.
7. Ride in a straight line at a consistent pace. The key to a good paceline is to ride a steady speed. If there are acclerations within the paceline, it hurts everybody, so if one rider is stronger than the others, he doesn't go faster but pulls longer. The weaker riders maintain the speed but take shorter pulls. The paceline then runs at a steady speed which is key.
8. When moving from a seated to a standing position, stay on the power so you do not fall back into the bike behind you. Even some really strong riders tend to do that.
9. Never pass on the right unless you are ABSOLUTELY CERTAIN there is
a) Plenty of room and
b) The rider in front absolutely knows you are coming around..(because you YELLED: COMING BY ON YOUR RIGHT and saw a visible reaction).
Robert might actually disapprove of this under any circumstances - it depends on your bike handling skills and who you are passing.
10. If you find that you can't hold with the paceline that you're in, signal, then pull out of the pace line and back off - don't start thrashing, weaving or gapping. If you are smart, you can jump back on AT THE REAR and get a break too. Unless you are at the tail end of a fast group who is determined to drop you (or you are about to be tandemectomized), back off on the steep or twisty descents.
11. Fixed Gear bikes don't descend, corner, or stop as fast as Freewheel bikes. When riding in pacelines with Fixed Gear bikes, give the Fixed Gear cyclist more room to descend, corner, or slow down. A group of cyclists on Fixed Gear bikes should ride together behind a group on Freewheel bikes so the Fixed Gear bikes can descend, corner, or stop at a different pace.
Our goal: have fun but be safe while cycling.